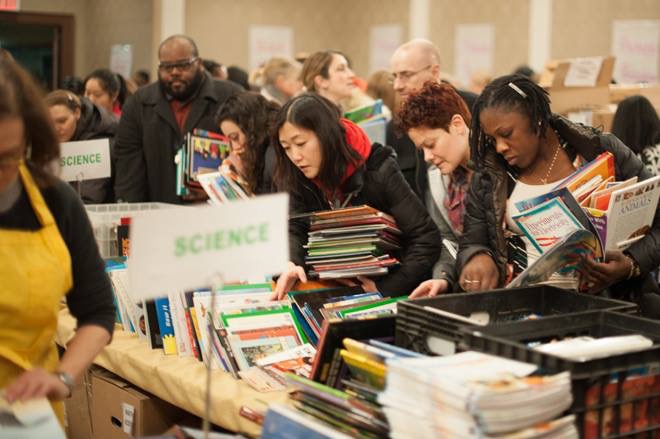 2024 Book Distribution will be March 9th and 10th.
Registration will open February 1, 2024
Follow us on Social Media @projectcicerobookdrive for updates.
Teacher FAQ
Q: Who is eligible to register for and attend Project Cicero?
A: New York City public school teachers who teach in schools that qualify for Title 1 benefits. Attendance is free, the books are free. Teachers from parochial and independent schools are NOT eligible to attend Project Cicero.
Q: When can you attend Project Cicero to collect books for your classroom?
A: There will be one-hour time slots available. Registration is required via Eventbrite. ***Please note that the tables are restocked for each session, new books are put out for every session. There is no advantage to any particular time slot.
Q: What types of books does Project Cicero provide?
A: We collect gently used or new books from board books and early readers to High School level, with NO textbooks. We also receive brand new publisher books. The distribution site is organized by book categories: Picture books, Early reader, Chapter books, High School fiction and subject tables of History/Biography/Social Studies, Reference books, Foreign language, Arts/Poetry/Drama/Music, Sports, Reading/Writing instructions and Math/Science. ***Books are replenished each and every session, so you will find a fresh assortment of wonderful books no matter which session you attend.
Q: Is there a limit on the books a teacher can bring home?
A: No limits overall; a teacher can take home as much as they can carry in their suitcases or bags, but some subjects may be limited.
Q: Will there be fewer books available if I have a time slot on Sunday rather than Saturday?
A: Every time slot is a good time slot. We replenish our selection of books before each session begins. Every teacher in every session has the same opportunity to select extraordinary books.
Q: Can I also volunteer and not just pick up books?
A: Yes, please! We welcome and encourage teacher volunteers. Please sign up via our volunteer registration site for a volunteer time slot.