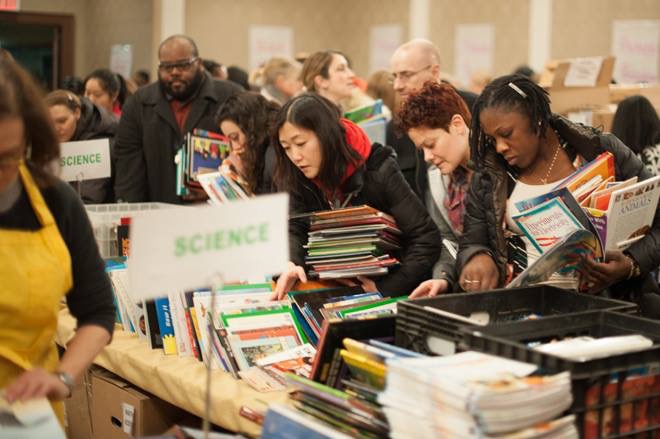 Stay tuned for news about Project Cicero 2023!
Teacher FAQ 
Q: Who is eligible to register for and attend Project Cicero?
A: New York City public school teachers who teach in schools that qualify for Title 1 benefits. Teachers from parochial and independent schools are NOT eligible to attend Project Cicero
Q: When can you attend Project Cicero to collect books for your classroom?
A: To attend you must register on Eventbrite for one scheduled time slot.
Q: What types of books does Project Cicero provide?
A: We collect gently used or new books from board books, early readers to High School level. We also receive brand new publisher books. The distribution site is organized by book categories:  Picture books, Early reader, Chapter books, High School fiction and subject tables of History/Biography/Social Studies, Reference books, Foreign language, Arts/Poetry/Drama/Music, Sports, Reading/Writing instructions and  Math/Science.
Q: Is there a limit on the books a teacher can bring home?
A: No limits overall: A teacher can take home as much as they can carry in their suitcase or bag. There are however some subjects where we need to limit books due to availability. 
Q: Will there be fewer books available if I have a time slot on Sunday rather than Saturday?
A: Every time slot is a good time slot. We replenish our selection of books before each time slot begins throughout the weekend, as sorting is continually in progress.
Q: Can I also volunteer and not just pick up books?
A: Yes, please! We welcome and encourage teacher volunteers but please sign up via our volunteer registration site for a volunteer time slot.