Our Impact
Our Impact, Locally in NYC
Improve reading skills and reading levels. Introduce students to new subject matter. Increase enjoyment of reading. Inspire the love of a good book. This is the power of Project Cicero.
Since our founding in 2001, Project Cicero has distributed for free over 4,000,000 books to over 1,000,000 public school students in all five boroughs of New York City. To accomplish this, thousands of families donate books and give their time to collect, sort and distribute them through Project Cicero's annual book drive and distribution event.
With their books, teachers and librarians …
Build and enhance classroom and school libraries
Reward and incentivize students
Supplement curriculum
Supply books for parents to read with their kids at home
Enrich independent reading
Enable guided reading
Watch our event video on YouTube with this link
Our Impact, ecologically
Project Cicero was one of the 33 organizations included in the NYC Materials Exchange Development Program's inaugural study and continues to be recognized as a major re-user/recycler in New York City. In 2020 alone, Project Cicero reused 68,308 pounds of material — saving it from landfills.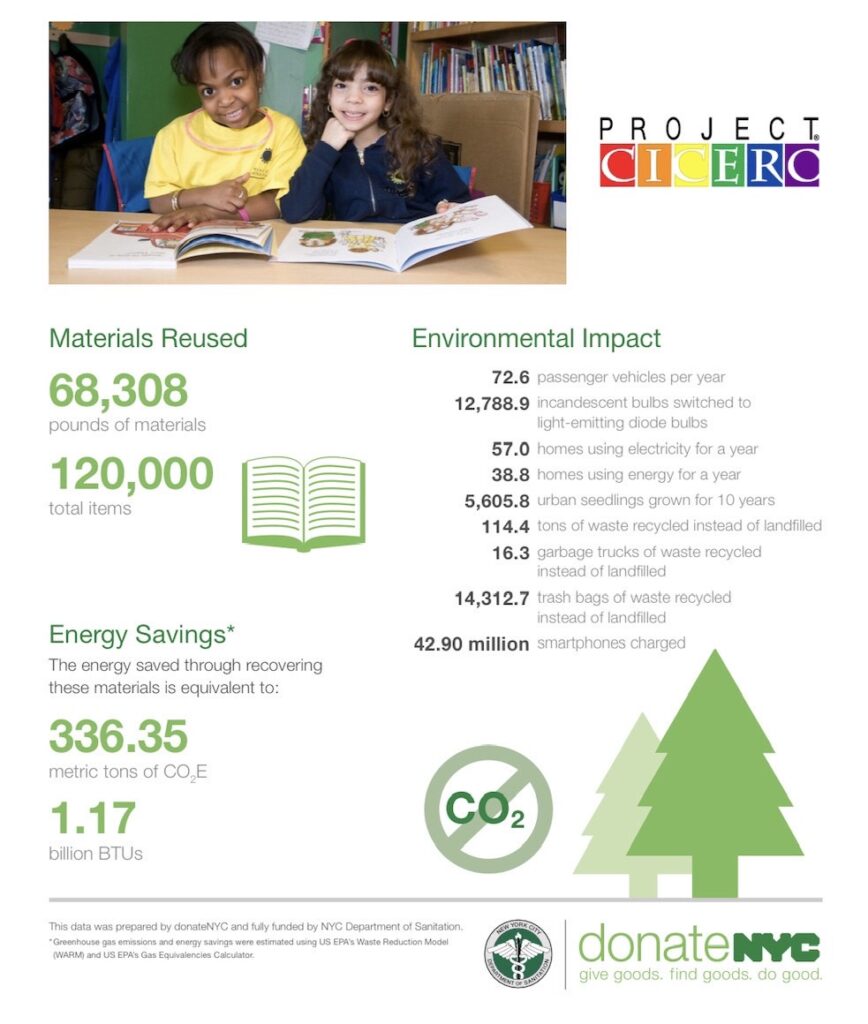 Our Impact, nationally
Modeled on Project Cicero New York, Project Cicero Northern New Jersey  and Project Cicero Bay Area (CA) service local communities in much the same way.
Our impact, internationally
Project Cicero encouraged the creation of, and is an ongoing advisor to Library4all in Athens, Greece.
Project Cicero is the proud recipient of an Industry Innovator Award, given by the Book Industry Study Group.